South Tyrol, at the feet of the Dolomites – UNESCO World Natural Heritage Site, is… picturesque towns, nice people, fresh air, gorgeous food and wines (think Lagrein!), adventure and relaxation amongst its beautiful landscapes, and so much more. There are huge areas of wild nature, including the most important Italian national park. The region is officially bilingual, or even trilingual, including all road signs, menus and media. Three language groups live harmoniously together in a relatively small land. It is where the Romance and Germanic cultures meet. The 'aborigines' of South Tyrol are however the Ladin people.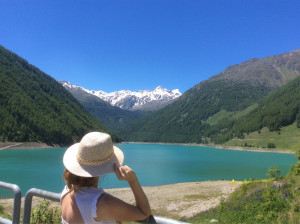 Merano and its surroundings is the perfect base for those wishing to explore the region. There is lots to see and do. Expansive forests, numerous fortresses and magnificent castles – testament to the eventful past of the region, panoramic roads, and then, impressive mountains, breathtaking views and delicious cuisine. Hiking, skiing, climbing, mountain biking, archery or golf – there's no chance you get bored!
We stayed in Madonna di Senales, located at an altitude of 1,500 metres above sea-level, surrounded by forests with the glistening peaks of the Alps as a backdrop. From here we could explore valleys and mountains, as well as flourishing local culture and art.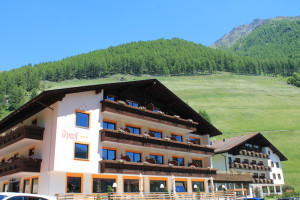 Berghotel Tyrol is a beautiful hotel I highly recommend. The spacious rooms all boast jaw-dropping views of the green mountains and quaint houses of a story-book village.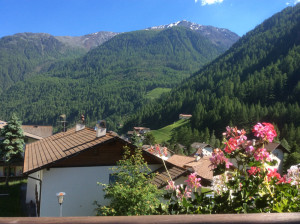 It was a joy to wake up every morning to this stunning panorama! Dietmar and Monika are such amazing hosts, they make everyone feel welcome, and it sure was grand to return to the hotel after a full-day of exploring and enjoy a fabulous meal!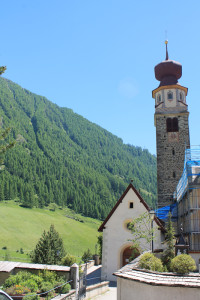 Locals are proud of showing-off to the world Ötzi the Iceman, a mummy found in the glaciers in 1991. The ArcheoParc in Val Senales, surrounded by spectacular Alpine scenery, offers interesting insights into the world of the iceman and his homeland – a village in the Late Neolithic Age, with child-friendly experiences and educational open-air exhibits and activities.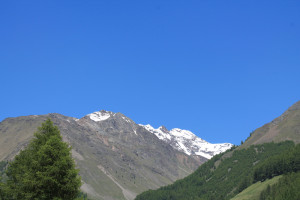 Discovered by chance, the Iceman is a unique well-preserved relic, a mummy from the Copper Age. You'll find Ötzi, his clothing and accoutrements in the permanent exhibition centre of the South Tyrol Museum of Archaeology, Bolzano.
We visited several gorgeous places near Madonna di Senales which I can recommend: Lake Resia, near the border with Austria and Switzerland, famous for its steeple of a submerged 14th-century church; and  the village of Glorenza, which boasts remains of an ancient Roman settlement.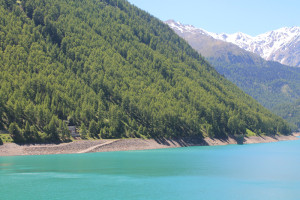 Merano itself. The former capital of the County of Tyrol (1418-1848) has been a health resort for centuries, especially popular after Empress Elisabeth of Austria started visiting. Terme Merano boast indoor and outdoor pools, saunas and spa.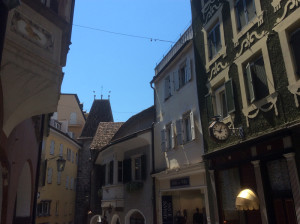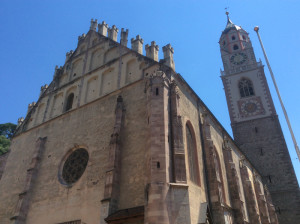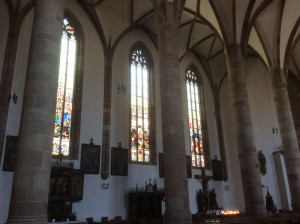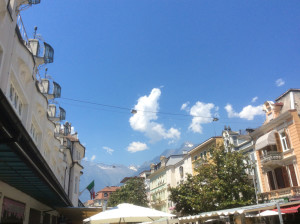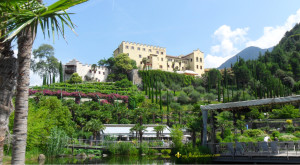 Merano's Gardens of Trauttmansdorff Castle display flowers and plants from all over the world. Tulips, peonies and elegant camellias in spring, roses and dazzling sunflowers in summer, my favourite dahlias in autumn make the visit to the gardens an unforgettable experience.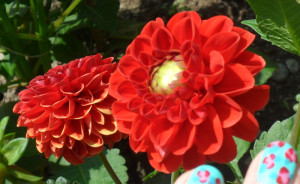 And then, beautiful vistas of the surrounding mountains and sun-kissed Merano.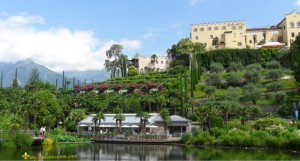 It is a stunning botanical complex. You can really unwind here, and spend a pleasant summer evening at the Water Lily Pond in the spectacular setting of the gardens.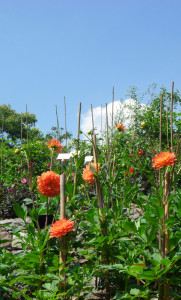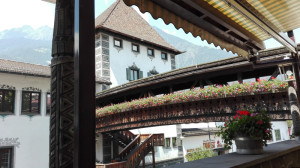 Another splendid summer evening idea is to visit Braugarten Forst, on the edge of the town, with live music and cool freshly-tapped beer, right from the Forst Brewery across the wooden bridge!
Numerous characteristic cultural, culinary and musical events are offered throughout the year.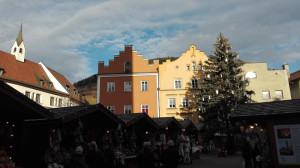 Traditional Christmas markets during the four weeks of Advent are the idyllic atmosphere guarantee for pre-Christmas shopping experience. Summer or winter, there is always something going on.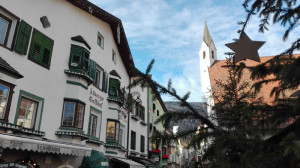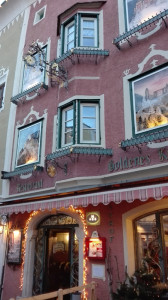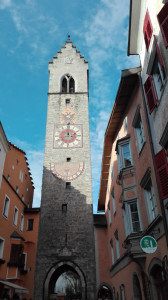 We also visited the South Tyrolean Strawberry Festival in the Martell Valley for some much-needed fresh strawberries. It is celebrated every year on the last weekend of June.
The fertile valleys and foothills of the Tyrolean Alps are perfect for growing apples, peaches, strawberries, plums and apricots. These are high quality products, like those of Venosta Valley (every tenth apple in Europe and every third apple in Italy is grown here).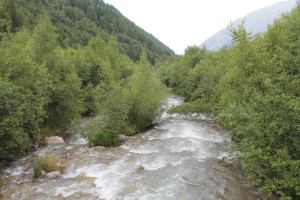 Speck (top quality smoked ham) is among the typical South Tyrolean specialities. Other culinary delights are the dumplings and apple strudel (South Tyrol's top dessert).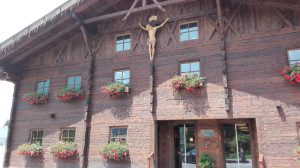 The area is well known for its wines, both white and red, as well as the indispensable grappa as the finishing touch to your meal.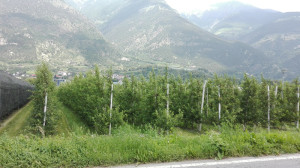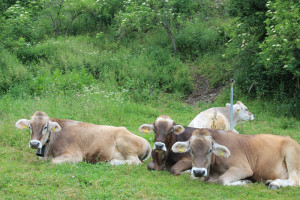 The region simply invites you to spend lots of time outdoors. Here you can enjoy wonderful walks, beautiful lakes, and outstanding beauty of the Dolomites!