November is the right month for a sensorial tour in the genuine Umbrian way of living made of good wines, freshly picked truffles and newly-pressed extra-virgin olive oils.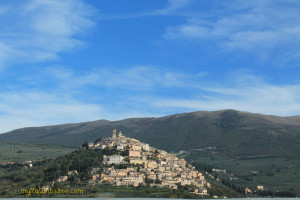 Umbrian countryside is authentic, with a rich cultural and artistic heritage. And while paintings, sculptures and frescoes from the greats such as Raffaello Sanzio, Perugino, Luca Signorelli, Rosso Fiorentino, the Della Robbia family, fill the museums, churches, galleries and squares of many beautiful Umbrian towns, other art expressions await you here, in the vineyards, olive groves, factories and rustic farmhouses, as Italian quality products are very famous and appreciated all over the world. These masterpieces derive from the same history and culture, geographical position, love and pride, determination that producers put into their products.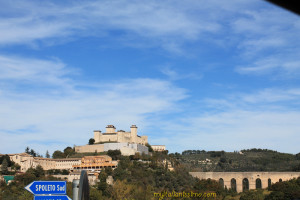 Olive harvesting and pressing has just started. I got really involved this year at local olive oil mills during Frantoi Aperti – the most important annual event dedicated to oil. Held in November, the festival celebrates the extra virgin olive oil of high quality Italy is so renowned for. Gastronomic itineraries and cultural events of all kinds are organized on November weekends in villages and tiny hamlets throughout the boot. Workshops, regional menus, guided tastings… olive oil can tell many stories, just follow the oil route to discover the best mills of the territory and spend a blissful time in this beautiful country.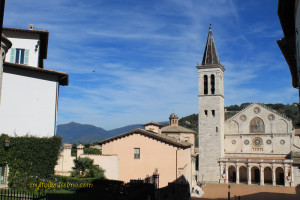 Frantoio Marfuga near the beautiful hill town of Spoleto. This morning begins with a memorable visit to the mill and the estate with Serena, who turned out to be a very knowledgeable and entertaining guide. The passion is almost tangible. Here olives are being turned into some of the best Italian extra virgin olive oils. Fruity and fragrant, they boast an extraordinary flavor, good intensity and persistence, and an unmistakable mildly peppery, bitter after-taste..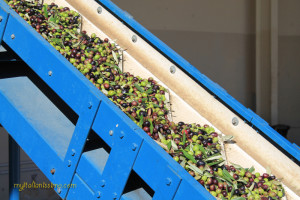 Olives don't have to be too ripe to be picked. When it comes to extra virgin olive oil, the timing is crucial. The harvest must start early in the olive's natural maturation process. Olives are picked when they are only partially dark and the fruity flavor is at its max, which assures a low degree of acidity. The olives are harvested mostly by hand. After the olives are gathered into small containers, they are brought to the mill (or frantoio). The olives are separated from the leaves, washed, crushed into thick paste, and pressed into oil.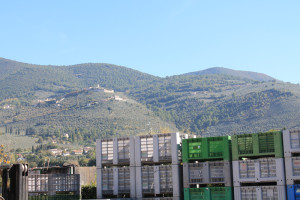 Umbrian oil makes up only about 2 percent of Italy's olive oil production, but these oils win a far larger proportion of awards.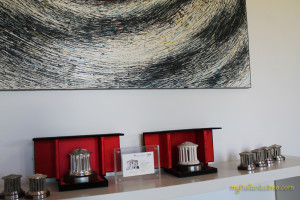 The award-winning company Marfuga with their D.O.P. UMBRIA Colli Assisi-Spoleto, and other oils. By the way, Umbria was the first Italian region to receive the D.O.P. designation in 1997 for the entire territory – a recognition of the authentic Umbrian oil, it's basically a stamp of excellence and 'protection of origin'.
And as for the skin care, here are some EVOO beauty products, for a charming gift. Olive oil is a great moisturizer, and first uses of olive oil were on the body and not in it.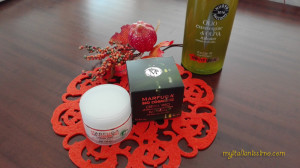 Marfuga olive oil themed products include creams, soaps, lotions, and scrubs.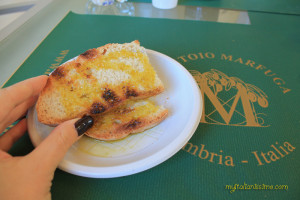 Best way to savor the liquid gold?  On bruschetta, of course! MARFUGA NOVELLO Extra Virgin Olive Oil is the first oil of the year. Bottled without being filtered in order to maintain its precious qualities, it should be poured with gusto on your bruschetta. Happiness!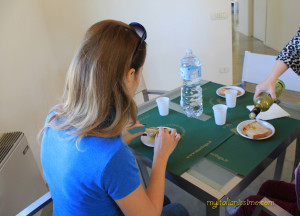 Known as green gold, Umbrian olive oil is an expensive treat. But avoid olive oil with a low price; the idea is that you must eat quality and not quantity. It is good for you, the health benefits of olive oil are unrivaled. Characterized by its intense green colour with golden highlights, fresh and fruity fragrance, this liquid gold is peppery, spicy and absolutely delicious!
Proudly an olive oil sommelier and a member of AICOO