The Sacro Bosco of Bomarzo is an extraordinary and mysterious garden in the province of Viterbo, where grotesque figures carved in situ out of peperino came to life in the mid 16th century.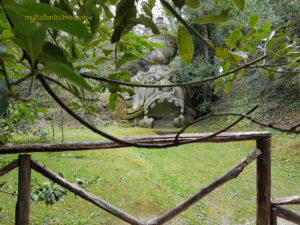 The area, once homeland of the Etruscans, is extremely unique and beautiful – we are in Tuscia, northern Lazio, the Cimini mountains in the backdrop, and the Tiber River Valley marking the border with Umbria.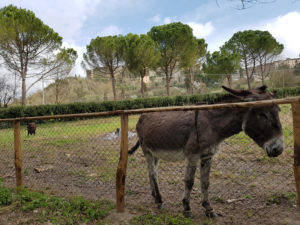 Lazio is not just Rome, even if hugely influenced by its nearness and its classical past. Characterized by the volcanic crater lakes – think Bolsena, Bracciano and Vico, Lazio has some important river flows and lavish green forests. Washed by the Tyrrhenian Sea, it is mainly a hilly region, with few mountains on one side and the plain towards the coast.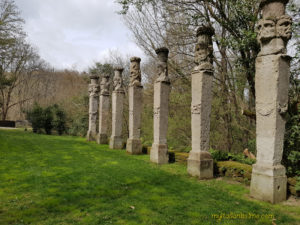 Rome's noble families would have luxurious retreats set in the beautiful countryside. Just like the Orsini family palace that dominates Bomarzo, a small town perched on a tufa rock hill. Pier Francesco (Vicino) Orsini (1523- 1583) and Giulia Farnese moved into the palace surrounded by a sacred wood with lumps of peperino rock emerging from the ground.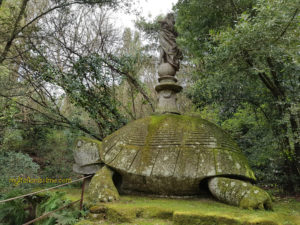 The park was conceived by Vicino Orsini during the 30 years of his adult life. His intention was to impress his friends and visitors, to make them wander in wonder, and enter into a deep state of spiritual questioning.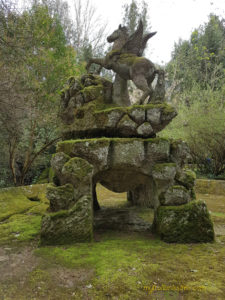 The sculptures are spread all over the woody land. With no logical order nor designed route, the garden is unconventional and unlike any other. The guests would leave their horses at the entrance and stroll along the twisting pathways, fascinated and overwhelmed by curiosity to interpret the meaning of the sculptures.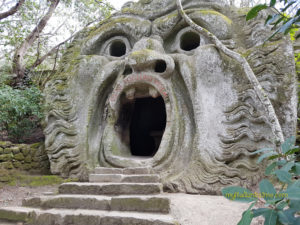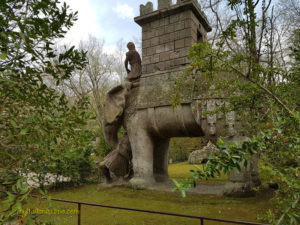 There is also a Leaning House with an intentionally shifted centre of gravity, which gives you an odd wobbly feeling when inside.
Intended to astonish, the gardens was where Vicino Orsini tried to cope with his grief after his beloved wife Giulia died.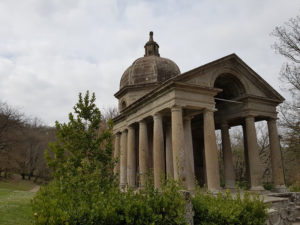 The monumental complex with its looming stone monsters, dragons, exotic animals, giant men and women, obelisks and mythological figures around every corner (some feature inscribed verses and mottoes) is an enigmatic example of the Italian High Renaissance.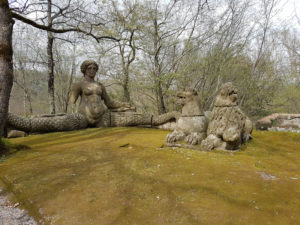 Despite being a 16th-century architectural project, it is unlike any other garden of the time. Spring is a good time to visit. Take your time to enjoy this magical garden, which has inspired many artists.
The park is one of a kind, very educational and worth visiting. You get here by car. Go early or late to avoid crowds (and maybe get nicer photo ops). Allow an hour or two for your visit, maybe more if you bring a picnic lunch. There is also a small play area for the children.