"Start by doing what is necessary,
then do what is possible,
and suddenly you are doing the impossible"
– Francis of Assisi
Once owned by the Roman Empire, Assisi is a beautiful Umbrian town of worldwide fame and an important place of pilgrimage.
The Romans, who took control of central Italy in 295 BC, built the flourishing municipium Asisium on the western slopes of Monte Subasio. The city walls, the Forum, the Temple of Minerva are all Roman remains that can be found in Assisi today.
Converted to Christianity in 238 AD by bishop Rufino, Assisi is bound with its native son –  St. Francis, born there in 1181/1182. Like Jesus, Francis taught by example, living without worldly goods and cherishing the beauty of nature and God's wonderful creation.
St. Francis of Assisi founded an order of friars in the town in 1208, while his female counterpart, Clare, went on to establish the order of the Poor Clares.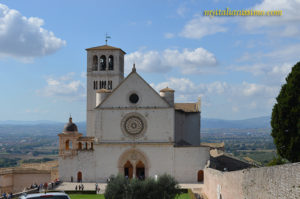 This stunning 3-level Romanesque-Gothic Basilica was built in the 13th century and is decorated from top to bottom by precious frescoes by the leading Sienese and Florentine artists of the time. The crypt houses the body of St. Francis himself.
In the nearby Basilica of St. Clare hangs the wooden crucifix St. Francis knelt before in 1206 to ask for guidance, and then followed the call to rebuild the Porziuncola Church in the valley right below Assisi. Today you will find the huge Basilica of Santa Maria degli Angeli built around it.
Francis was proclaimed a saint by Pope Gregory IX in 1228, and shares honours with St. Catherine of Siena as the patron saint of Italy.