If you haven't already, it is high time to get in the mood for autumn! And if you like mushrooms as much as I do, you can't go wrong with this recipe. Serves 4.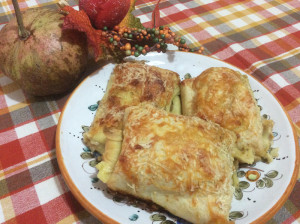 Ingredients:
For the pancakes
250ml milk
125g plain flour
3 eggs, lightly beaten
30g butter
salt & freshly ground black pepper
1 tbsp extra virgin olive oil
For the filling
200g mushrooms, sliced
2 shallots
500ml milk
50g butter
50g flour
100g  Taleggio DOP cheese
50g  grated Parmigiano Reggiano DOP
1 egg
grated nutmeg
extra virgin olive oil
salt & freshly ground black pepper
Directions
Place the beaten eggs and the flour into a large bowl and mix well. Gradually whisk in the milk until your batter gets the right consistency. Add 1 spoon of oil, a pinch of salt and a dash of pepper, cover and let it rest in the fridge for 30 minutes.
Heat a frying pan, butter it a bit each time you add a ladleful of the batter, and fry until golden on both sides, turning with a fish slice.
Clean and chop the shallots, simmer for 2-3 minutes in a frying pan with 1 spoon of olive oil. Add the sliced mushrooms, then the seasoning, stir and cook slowly in a covered pan for 10 minutes.
For your besciamella sauce: melt the remaining butter, work in the flour, add milk and cook until thick, stirring briskly, season with salt and grated nutmeg. Add half of this sauce to the mushrooms, along with the diced Taleggio cheese, 1 egg, and one-third of Parmigiano.
Put a tablespoon of filling centrally on each pancake, fold into envelopes, and place in a buttered ovenproof dish, cover with remaining sauce, sprinkle with remaining Parmigiano, and bake in a pre-heated oven at 180C for 20 minutes until golden brown.
Buon appetito!