I was introduced to Castagnaccio by a Tuscan friend. Like most traditional recipes, this was originally a peasant's dish. Chestnuts (Castagne) are the main ingredient here. At the beginning of the 19th century, when Castagnaccio was exported from Tuscany to the rest of Italy, raisins, pine nuts and rosemary were added to the recipe.
It's made from chestnut flour and olive oil and has no raising agents. It's not one of the cakes you are probably used to, it is rather a savoury bread. The sweetness comes from the nuts and dried fruit added to it.
Here's my own way of making Castagnaccio, replacing some traditional ingredients like walnuts and rosemary with apples, and adding some apricot jam. It has worked really well for me. But you can also try making and decorating it with marrons glacés, hazelnuts or even chocolate chips.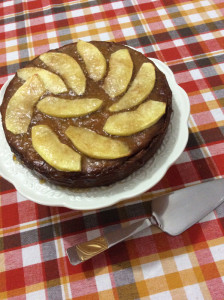 Ingredients:
200g chestnut flour
30g sugar
300g water
a handful of raisins
a handful of pine-nuts
extra virgin olive oil
a pinch of salt
250g apricot jam
1 apple, cored, thinly sliced
10g butter, melted
4 teaspoons brown sugar,
1/4 teaspoon ground cinnamon
Directions:
Preheat the oven to 180°C. Grease a 18-cm springform pan with 1 tablespoon of the olive oil.
Put the flour in a bowl. Add a pinch of salt, then the sugar, whisk in the water very slowly till you get a rather liquid mixture without lumps. Now add 1 tbsp of olive oil, the raisins and the pine nuts. Pour the mixture into the prepared pan and bake for 30 minutes at 180°C, until a toothpick inserted in the centre comes out clean. The castagnaccio is not ready if there are no cracks on the surface.
Take it out, let it cool, and cut into 2 layers. Spread the apricot jam between the layers, then stack and cover the cake, too. Arrange some apple slices on top, brush with melted butter and sprinkle with brown sugar and cinnamon combined in a bowl. Set the oven to grill and cook the cake for 5 more minutes.
As you can see, Castagnaccio is very easy to make, and offers lots of room for experimentation. It perfectly goes with a November afternoon espresso. You can serve it with a drizzle of honey, maple syrup, cashew cream… Or with some caramel panna cotta, like I usually do.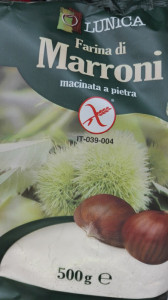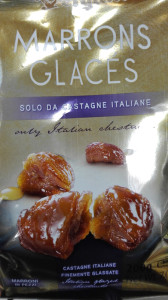 Buon appetito!