Luckily, it's Cantine Aperte 2015, which means the region's main wine producers have opened their wine cellars for everyone to visit and taste their wines, free of charge.
Castello di Verrazzano is the first on my list. Situated in the heart of Chianti Classico wine production area, this estate offers guided tours all year round, by reservation.
Don't miss a chance to visit this estate.
Giovanni da Verrazzano, who discovered the bay of New York and the main part of the East Coast of North America, was born here in 1485.
I'm so in love with this place! Its beautiful gardens, the centuries-old ageing cellars, and also the wild boars reared naturally in the surrounding woods. Enjoy the view!.. and taste the wine, of course!
It's no secret that I'm a big fan of Chianti Classico. And every time I taste it, I realize how much I love its deep colour, good structure and elegant taste.
And in the afternoon, Greve in Chianti awaits, with a must-stop at the Antica Macelleria Falorni, a Tuscan butcher shop, to taste their salame, capocollo, finocchiona, prosciutto, rigatino and more.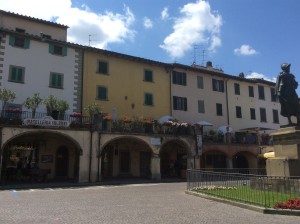 It's right in Piazza Matteotti, where you'll find the Town Hall, the statue of Giovanni da Verrazzano, the Info Point and lots of artisan shops and restaurants beneath the arcades. It's a beautiful square where every Saturday a big market of foodstuff takes place.
Just above Greve, is a beautiful village, enclosed within its original walls, Montefioralle, the birthplace of another Italian explorer, navigator and financier Amerigo Vespucci. The doorway of the Vespucci family house is identified by the wasp (= vespa) and a V.