One of the great reasons to visit Monterchi is the extraordinary fresco of the Madonna del Parto (1455-1460) by Piero della Francesca (1415-1492), recently restored and now exhibited in a special display area in his mother's native town.
Monterchi is a little Tuscan town, perched on a hill on the border with Umbria. It originated as a holy site for the Ancient Romans. The name derives from Heracles, 'mons Herculi', who, according to the legend, founded the town after defeating the Hydra (the 9-headed monster, reproduced on the municipal coat of arms).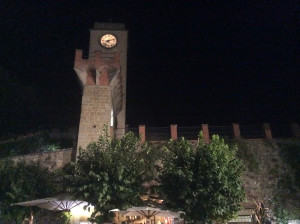 Visit the picturesque Piazza Umberto I at the top of the old village. It is often turned into an open-air stage with bars, food stalls and souvenir stands during the local events like the polenta festival, Sagra della Polenta, which occurs annually in September. It's a three-day event with dining and entertainment, as well as walks, concerts and contests. On the menu: sausages, mushrooms and polenta, of course.