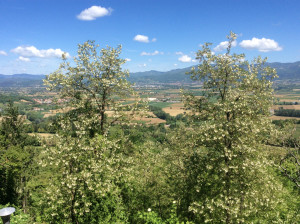 The Upper Tiber Valley lies across two Italian regions and is governed by Tuscany in the north and Umbria in the south. Also known as Valtiberina, the valley takes its name from the River Tiber.
Situated right in the centre of Italy, the area populated first by the Etruscans and then by the Romans (the latter used to build their summer villas in the Valtiberina, including Pliny the Younger), offers you a chance to take an in-depth look at its medieval towns, impressive monuments and renaissance treasures. You can pick your own artistic and cultural itinerary. Here you can admire the art of Raphael (1483-1520), Piero della Francesca (1415-1492), Luca Signorelli (1445-1523), the Della Robbia family and many others… You can also discover the places frequented by St. Francis, the patron saint of Italy, through the beautiful abbeys, monasteries and churches.
The only highway that passes through the valley is the E45.